5.  In my kitchen, cookbooks just take up space (don't shoot me)!  I rarely use them and prefer tried and true recipes from friends or highly rated recipes at Allrecipes.com.  Now that I realize that, I'll stop carting them around the globe! 

Here are a few of my favorites from All Recipes: JP's Big Daddy Biscuits, Jay's Signature Pizza Crust, Baked Teriyaki Chicken, Rhubarb Strawberry Jam (my kingdom for some rhubarb right about now!) and One Bowl Chocolate Cake.
Bottom Line: I stick with the tried and true and that is ok!
4.  Grating an onion doesn't make you cry like chopping one does.  I am also less likely to injure myself with a grater than I am with a knife.  :) Not to mention the fact that my kids and onion hating brother-in-law are less likely to notice onions in this form!
Bottom Line: Am I the last person on the planet to figure this out??
3.  I can make it!  Whether it is rolling out a flaky pie crust, frying up some down home chicken or making Crispy and Creamy Donuts, it's possible.  To me those foods seemed complicated and like they took special skill, but I finally just tried them!  Sure I'm not famous for any of these things (yet, lol) but but no one is complaining!   
Bottom Line: No more saying, "I don't know how to make that!"  Just give yourself plenty of time and try it!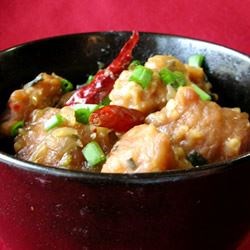 2.  General Tsao's Chicken made at home tastes JUST as good as the restaurant!  My husband and every single person I have made it for wholeheartedly agree!
Bottom Line: You want the recipe, right?
1.  Cooking is holy work!  My new mantra is "I don't feed bodies, I feed souls!" and I think I'm going to paint that on the wall of my kitchen for those times when I forget that the heart of my work in the kitchen is NURTURING and LOVING my precious family and friends! 
Bottom Line: If you'll excuse me, I've got some souls to feed!
What have you learned about cooking in 2010?  I'd love to hear!