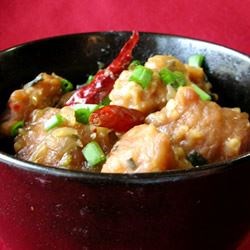 Sauce:
Ingredients: ½ C cornstarch, ¼ C water, 1 T minced fresh garlic, 1 ½ tsp ginger (or fresh grated), ¾ C sugar, ½ C soy sauce, ¼ C white vinegar, 2 ¼ C chicken broth, 1 tsp salt
Instructions: Put all ingredients in a jar, shake and set aside (or refrigerate).  Just shake again when you are ready to use it.
Chicken:
Ingredients: 2- 2 1/2 lbs boneless, skinless chicken breast, cut into chunks, ¼ C soy sauce, 1 egg beaten, 1 C cornstarch, oil for deep frying
Instructions: Mix chicken and soy sauce. Stir in egg. Add cornstarch and mix until chicken pieces are coated. It's pretty gooey and nasty looking. Deep fry until golden brown then drain.
Combine Sauce and Chicken:
Ingredients: 1 C sliced green onions, hot peppers to taste
Instructions: Sauté 1 cup sliced green onions and hot peppers in a bit of oil.  Add sauce mixture and cook until thick.  Then add chicken until rewarmed.  If desired, throw some broccoli crowns in with the chicken and it will cook to perfection while the chicken warms.
Serve with rice. 
Please let me know if you try this recipe!!   I would love to hear what you think!